Shopping Basket
Your Basket is Empty
There was an error with PayPal
Click here to try again
Thank you for your business!
You should receive an order confirmation from Paypal shortly.
Exit Shopping Basket
WWII og Vietnam Airsoft Rollespill
Vi driver med Airsoft WW2 og Vietnam airsoft våpen og replika uniformer..
Da har det kommet en kinaklone med usikker kvalitet. Billig MG42 hvertfall.
450$ WGCshop.
Same OEM factory with S&T MG42
Built Material: Aluminum, Steel, ABS, Wood
Gear Box: Custom Metal Gearbox
Motor: /
Magazine: 2100 Rounds
Length: 1250mm
Barrel Length: /
Weight: 7100g
Battery: Custom Mini Type ( not included )
Muzzle Velocity: 320-340 FPS with 0.2g BBs
Package Includes: Gun, Magazine, Bipod, manual
Shoei MG42 AEG Model
Da har Shoei laget AEG (tidligere laget Trykkdreven) MG42!
WGCshop har b.l.a. denne. 1500$.
Built Material: Aluminum, Steel, ABS
Gear Box: Proprietary metal gearbox with blowback
Motor: /
Magazine: 150 Rounds
Length: 1230mm
Barrel Length: /
Weight: 6920g
Battery: Mini type ( not included )
Muzzle Velocity: 310-330 FPS with 0.2g BBs
Package Includes: Gun, Magazine, Bipod, manual
Da er det også på vei en Thompson GBB. Både King Arms og WE lager.

Power Source: Gas Blowback
Magazine Capacity: 30 Rounds
Firing Mode: Semi / Full-Auto
Sights: Blade front, fixed battle rear
Inner Barrel Length: ~ 250mm
Gun Length: ~ 812mm
Package Includes:
1 x Rifle
1 x Product Manual
1 x 30 Round Magazine [Gas]
Da kommer det endelig GBB i WW2 sammenheng!
KWA har laget en produksjonmodell.
Full Auto.
Full metall.
46 Skudds magasin.

G&G GM1903 A3 Gas Rifle.
Name G&G GM1903 A3 Gas Rifle 37173
Description G&G GM1903 A3 Gas Rifle
(GGS-193-GAS-WNB-NCM)
Material: Wood / Metal Alloy
Loading Capacity: 9 Rounds (6mm BBs)
Length: 1115mm
System: Bolt Action / Gas Powered
Muzzle Velocity: Approx. 380-400FPS w/ 0.2g BBs & Top Gas
Package Included: Gun, Magazine x2, Manual
Weight 3780g
Price US$ 450.00
Features:
- Full metal construction
- Genuine wood stock for battery storage
- Textured wood pistol grip panels
- Handguard w/ ventillated slots
- Detachable folding metal bipod
- Adjustable flip-up front and rear sigts
- Fully adjustable hop-up (under receiver cover)
- Mock charging handle & barrel cover
- Auto-winding 2,500rd drum magazine
- Compatible w/ Version 2 internal parts
Specifications:
Operation: Electric Automatic
Build: Metal Receiver, Handguard, Bipod, Sights / Real Wood Stock
Firing Modes: Full-automatic (only), w/ Functional Safety
Muzzle Velocity: 400 – 420 FPS (w/ 0.20g BBs)
Gearbox: Custom Full Metal
Magazine: 2,500rd Electric Winding Drum
Battery: 8.4V Mini
Hop-Up: Adjustable
Inner Barrel Length: 600 mm (approximately)
Weight: 16 pounds
Overall Length: 48" in.
S&T M1903A3 Spring Power Rifle
1/1 Scale Airsoft Replica Spring Power Rifle
Widely used by Imperial England Army during World War II
Extremely High Quality Wood Furniture
Muzzle Power Reach ~410FPS Velocity
Real Wood Stock
Full Metal Bolt System & Solid cocking motion sound
Rear Sight with Windage & Range adjustment
With Metal Bayonet Mount
Magazine accommodate 25 Rounds of 6mm Plastic BB
Realism M1903 Safety Functions.
Adjustable Hop-Up system
Sling mount can be installed with any sniper rifle sling
SKU
SNT-SPG-09-M1903A3
Item Weight (gram)
2785
Major Color
Black
Length
1124mm
Hop-up
Adjustable
Shooting Mode
Manual
Other Power Source
Spring
Magazine Capacity
25 Rounds
Bullet Type
6mm BB
Power (Muzzle Velocity)
410 FPS
Manufacturer
S&T
Nå kommer det også en rimelig M1919 BAR.AEG til Ca:US 380$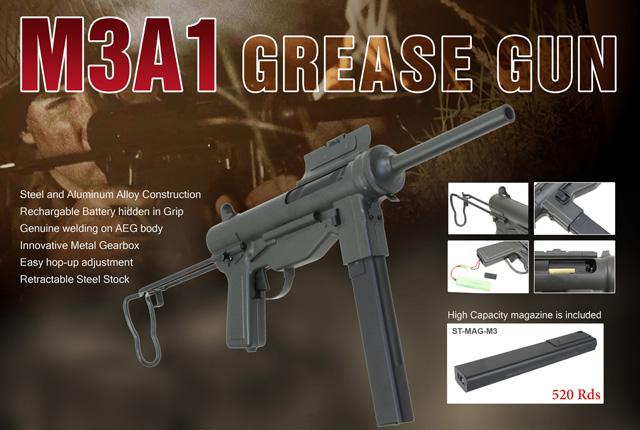 En grease gun i helmetall til litt over 200$.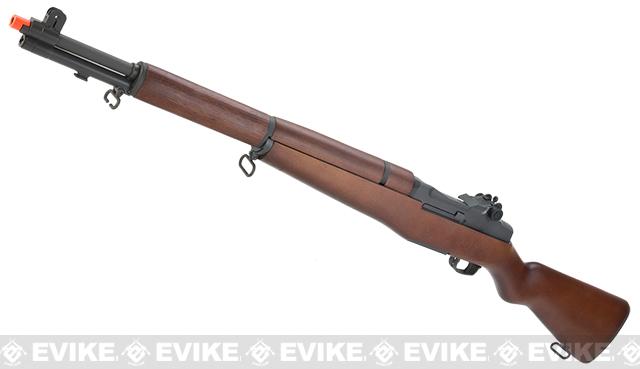 Denne blir å finne i Hong kong butikkene i dagene framover til Ca: US$ 380.

/